I have always loved movement and music.  Since the age of 5 when I began dancing I have been driven with a desire to share the joy that movement and music brings.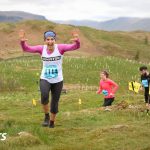 In my teens I developed an interest in psychology which has developed into a passion to understand how the power of the mind affects our well-being and health.   I feel I am now on a very fulfilling mission to motivate and encourage others to find release, connection, happiness and health through movement and positive thinking.
My teaching journey began in the early 90's when I was asked to take over my retiring dance teacher's adult tap and jazz classes. He mentored, trained and believed in me – I will always be grateful for this – he taught me how to share my passion in a way that was inclusive, fun and creative.
In 2001 I began my journey into learning and teaching various fitness disciplines. I became qualified as a YMCA exercise to music instructor – 2 weeks of intensive anatomy, choreography, fitness principles and industry training was quickly followed by training in Step Aerobics, Aqua aerobics, Kaiser Spin and Circuits.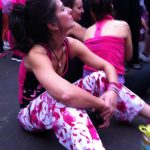 In 2005 after 3 years training with the coaches training institute UK, I became a certified practising co-active life coach. I still practice coaching when the timing is right and the next client crosses my path. This training has helped me understand, value and respect human beings as creative, resourceful and whole. These valuable coaching tools and techniques are often woven into our yoga, dance and fitness classes.
In 2008 after the birth of my first son I moved back to the Lake District and in 2010 after the birth of my second son I discovered Zumba. I have enjoyed 8 fun filled years teaching the friendly, enthusiastic and energetic locals of Windermere and Ambleside and have developed my training to include Zumba Toning, Zumba Gold, Zumbatomic, Piloxing and Fitsteps.
In 2016 I was drawn towards yoga in a search to find balance for my teaching and personal well-being. In 2017 I completed 500hrs yoga teacher training with YMCAfit, Vinyasa Yoga teacher training with YMCAfit and Yin Yoga teacher training.
More recently,  after having been troubled by a niggling hip (I have been very fortunate to have been mostly injury free through my active life!) I was signposted to the Egoscue Method of health through motion.  This has not only helped heal my own niggles but has inspired me to share this practice with my classes. In 2019 I embarked on a 12 month training course with the Egoscue University and am now a Certified Postural Alignment Specialist.
And so my yoga teaching has evolved into my POSITIVE POSTURE class.  This fundamental foundation to movement practice offers a great base on which to build your physical pursuits whether it be yoga, dance, golf, running, gardening, walking …whatever makes you come alive! 
I love teaching the variety of classes I offer and blending all that I have learnt along my continuing journey.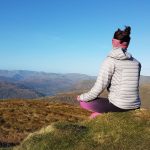 But most importantly I value the people who come to class, they lift me up, make me smile, keep me grounded and very grateful.